"I pull my grief up to every table that I'm at."
What is Our Loss?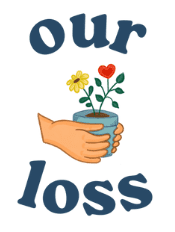 Our Loss is a community project based in Hamilton, Ontario that brings people who are grieving together outside of traditional and health-based spaces (ex. hospitals, therapy offices). The founder of Our Loss, Annie Horton, wants everyone, especially those experiencing grief, to feel community around them.
Because in the depths of her own grief, that's exactly what she was missing.
Annie says, "Death is an inevitable part of life, so it is helpful if we can understand it before we experience it." That's why Our Loss is for everyone.
Our Loss is a Work of Love
Annie's dad died unexpectedly of a heart attack in 2017, changing her life forever.
After losing her dad, Annie felt deeply isolated and didn't know where to go or what to do. Everything she once loved no longer brought joy or comfort.
As time passed, she started to look for examples of other people living with grief.
Annie began researching and learning about grief from an academic perspective – from popular sources like Claire Bidwell Smith and Modern Loss by Rebecca Soffer – but found limited resources for people experiencing a loss like hers.
Annie found it most helpful when her friends gave her a glimpse into their own losses and grief processes, so she decided to begin sharing her story. Dr. Bob Kemp Hospice took notice and began sharing Annie's story online. Soon after that, Annie registered for Laurier's Death, Dying, and Bereavement Certificate program and began providing 1:1 support at Dr. Bob Kemp Hospice, as well as leading grief-related campaigns.
In September 2022, the project evolved and Our Loss was launched.
Grief in Unexpected Places
Our Loss aims to bring grief to unexpected places, because grief shouldn't be a hidden experience. We're all dealing with loss or grief in some capacity, or we will in the future.
Grief is inevitable in the experience of being human. This summer's blockbuster, Barbie, acknowledged clearly how central death is to our humanity, and yet how much our society doesn't want to talk about it.
Grief makes us uncomfortable. That's what's beautiful about the Our Loss project — it's getting us all a little more cozy and thoughtful about our grief.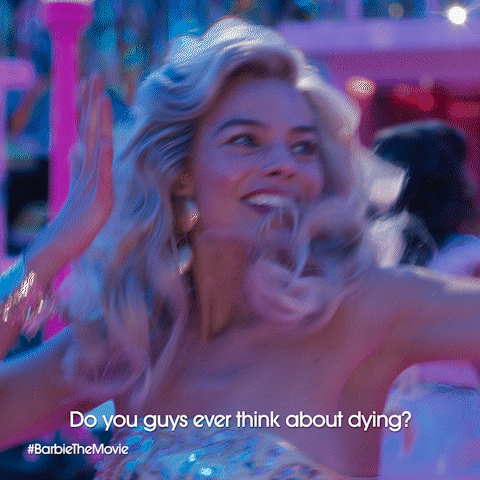 TikTok quickly picked up on grief themes in Barbie, helping us all explore grief in a new way.
Our Loss is the Place to Bring Your Grief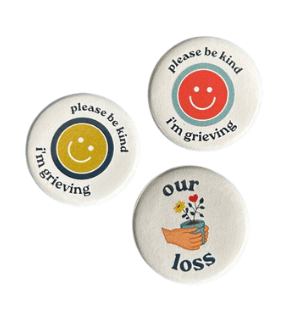 If you're grieving, you know already that your grief goes with you anywhere and everywhere.
Our Loss is about creating spaces and community where your grief is invited — welcome, encouraged, and understood. It's about creating spaces where you can mourn and heal with others.
Our Loss has kicked off a new series of grief workshops in fall 2023, including Mourning & Mending, a half-day grief retreat focused on movement and journaling, hosted at The Move Room in Hamilton, ON. It quickly sold out!
If you'd like to support Our Loss, we encourage you to purchase a sticker or pin from their website to help you grieve out loud and follow the project on Instagram.
Some sneak peeks Annie shared with us about what's coming next: networking for people who work in death, bereavement, and grief-related industries, creative craft workshops, community potlucks, and so much more.
Grief is all around us and often a part of our work. Kitestring recently explored grief as part of the Faces of Dementia project with the Hamilton Council on Aging.