Jackson Square is a Hamilton landmark — an essential part of our downtown core over the past 50 years. Whether you love it or avoid it, Jackson Square is a hub for Hamiltonians and offers a variety of services in the heart of the city.
As Jackson Square Mall approached its 50th anniversary, the team sought to rally the city and say thank you for 50 memorable years.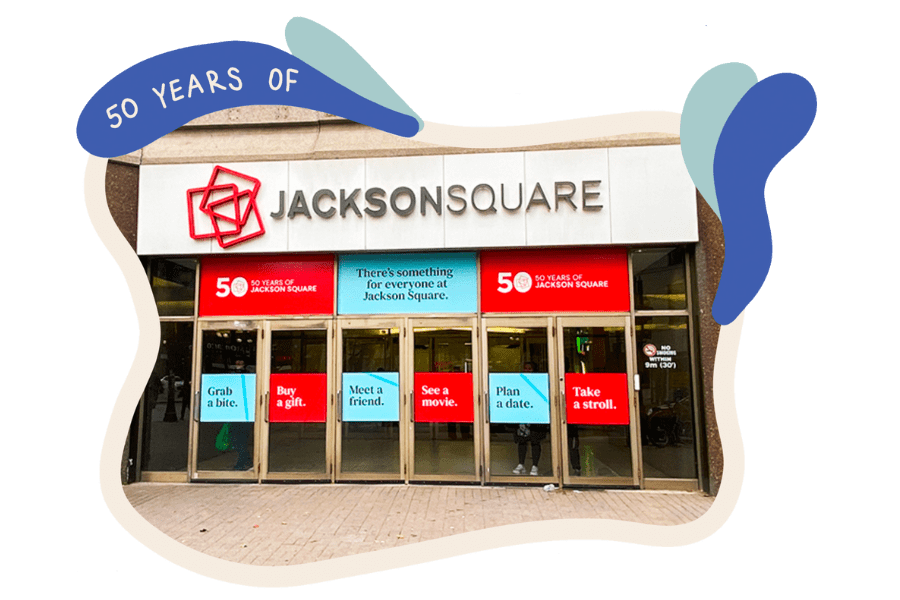 Our first step at Kitestring was to conduct a community and tenant survey that captured the feelings and memories evoked by the mall. We found most people were neutral about their experiences with Jackson Square, but a few reminisced about rooftop concerts, nights spent at the movies, and weekend mornings well-spent at the farmer's market. Others felt more strongly about the lack of atmosphere. The tenants, in particular, felt the mall could be more lively and saw Jackson Square as full of potential.
Through this stakeholder survey process and honest conversations, it was clear that we needed to celebrate Jackson Square for the space it truly is and how it supports the city, without glossing over the reality and challenges faced within its walls. Food insecurity, housing, employment, and health issues are prominent for many Hamiltonians, with many seeking respite in the halls of Jackson Square. The mall has seen stores come and go, and ultimately, this evolution means every visitor of Jackson Square has a story to tell.
With this in mind, we dove into planning and campaign development, resulting in a compelling, honest (and cheeky!) campaign theme: We've seen it all at Jackson Square.
To celebrate the evolution of Jackson Square over the last 50 years, we planned an anniversary event and campaign featuring coffee, donuts, anniversary tees, and tote bags. We also held a raffle with exciting prizes from Jackson Square vendors: Maverick's, Joseph's, Booster Juice, Bell, Unique Shoe Repair, Golden Gate Jewelry, New York News, HWDSB, Medical Centre Optical, and more. The event was undoubtedly a success, with thousands of visitors and anniversary tees flying out the doors of Jackson Square.
That's the benefit of an honest slogan. Hamiltonians felt seen and felt known. There was so much demand for Jackson Square gear that we opened a pre-order for hundreds more t-shirts with all proceeds supporting Community Fridges HamOnt.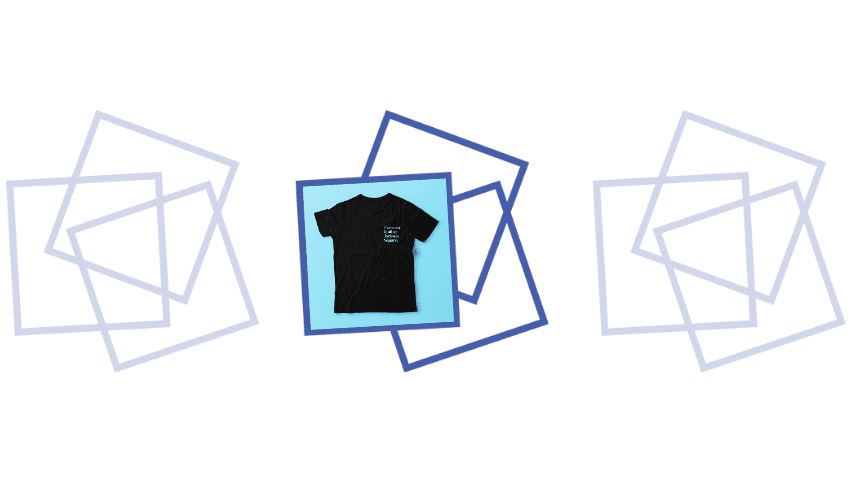 And it's not over yet! The effects of the We've Seen It All At Jackson Square campaign are ongoing, as we see t-shirts and tote bags walking around the city and continue to work on the three murals planned as part of the campaign. The murals, which feature local artists, bring our community together in celebration and shine a spotlight on Jackson Square's role in Hamilton.
In addition to the celebration of their 50th anniversary, the team also launched social media accounts to share memories, current events, highlights, and the history of Jackson Square. Their social media channels will share regular updates as they continue to work with and connect with the Hamilton community.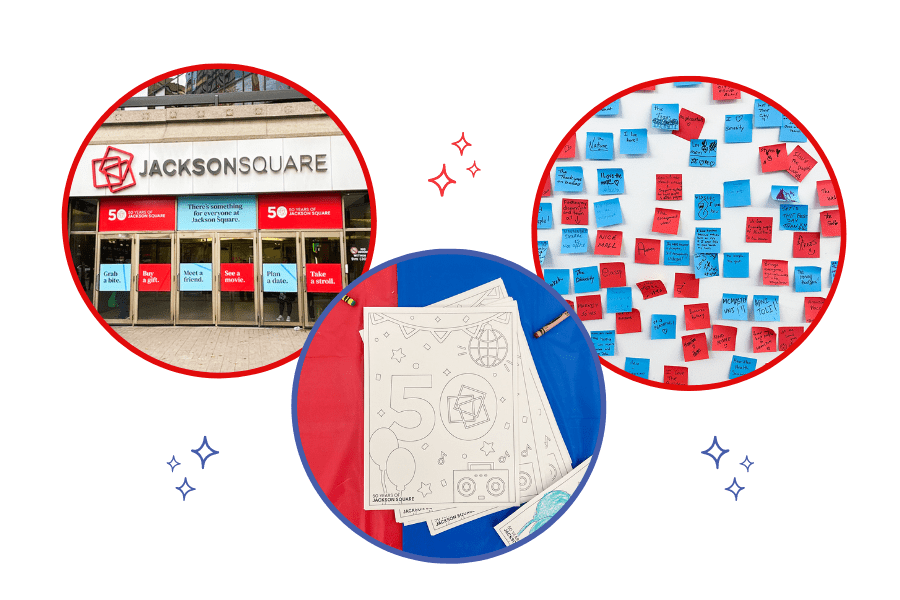 We'll always be grateful to this project for reminding us of the importance of keeping it real when developing a campaign, and we look forward to seeing what the next 50 years brings to Jackson Square. We might think we've seen it all, but we suspect there's more beauty, community, and connection to come!
Ready to develop a campaign that keeps it real? Let's chat!
You can follow Jackson Square on Instagram, Facebook and Twitter to keep up with announcements and events.