If you haven't already heard, then boy am I glad to be the person to tell you: Sherman Ave. N will soon be home to Pinch Bakery + Plant Shop! Founded by Amanda Wright and Stef Dubbeldam, the bakery, cafe, and plant shop will be moving into 183 Sherman Ave. N — a space owned by the Playhouse Cinema.
After launching their Kickstarter campaign in April 2022, Amanda and Stef surpassed their $10,000 goal to add an accessible washroom and make minor changes to the space they had secured: the old Jet Diner. Hoping to bring the roadside sign back to life, they reached an incredible $15,000 by May 2022, blown away by the community's support of their new Ward 3 community cafe. By June 2022, lease negotiations unexpectedly hit an abrupt bump in the road and Pinch began searching for a new space.
Big fans of the community in Ward 3, Nrinder Nann's emphasis on community building, and the Playhouse's neighbouring property conveniently empty, Pinch lept at the opportunity on Sherman Ave. N. after Girl on the Wing owner, Whitney McMeekin, alerted them to the opportunity. With big support from the Playhouse team and their vision to build community with local businesses, Amanda and Stef began to envision what was possible in their new space.
Pinch's new home features a large patio and space for a garden centre and kitchen garden. With grape vines growing over the patio space, it's easy to dream of baked goods and birds chirping over lunch at Pinch. The space expanded the vision for Amanda and Stef to include light meals and dining, beyond their initial plans for the bakery. Prioritizing accessibility through expanded doorways and large washrooms, Pinch emphasizes its focus on accessibility in all ways. "We want food to be accessible, plants to be accessible, and [plant] education to be accessible," says Stef, "if you leave with a $5 plant and a bit more knowledge about how to take care of it, for me, that's all I want to do."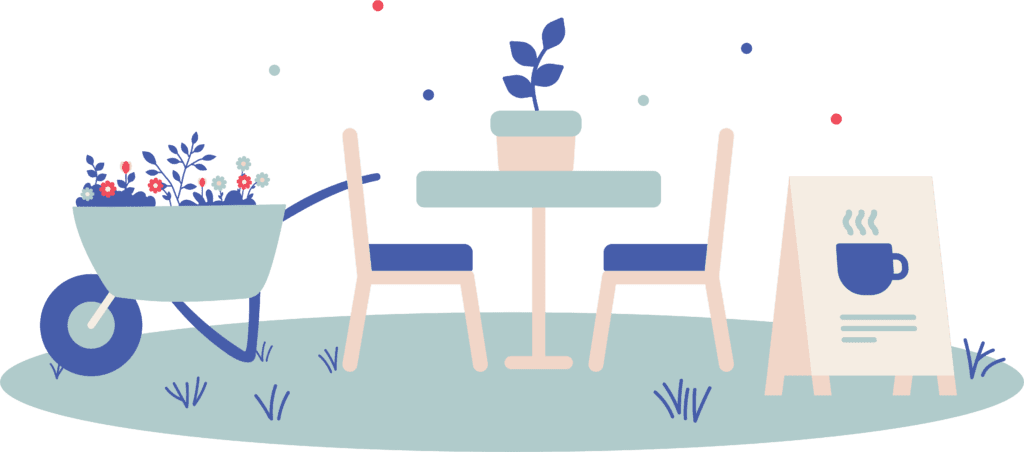 With Amanda's experience running Sweet & Simple Co., a handmade confections business, as a pastry chef and professional chocolatier, she's eager to bring delicious treats and food to the Sherman area. For Stef, her One Minute Planty Chats with Coffee on Instagram and studies in Horticulture at the University of Guelph are the natural foundation for building their plant selection and creating an inviting outdoor space.
With the area bustling with creativity at the Playhouse Cinema, Hamilton Craft Studios, and the Cotton Factory, Pinch Bakery + Plant Shop will be a tasty addition to the neighbourhood.
"We just want to make treats and see people!"
Busy painting the kitchen walls butter yellow and going full throttle on the bathrooms (ahem…one "might even be Harry Styles themed" says Amanda), cakes will be flying out of the newly renovated space and ready to celebrate with the community before you know it.

Fingers crossed the renos and permits are kind: Pinch Bakery + Plant Shop is hoping for a spring soft open, and I'm ready for treats!
If you're a new business in Hamilton that would like to be featured in a future blog, connect with us!