Affordable housing is a pressing issue across Canada and the challenge is felt acutely by Black and Indigenous seniors in Hamilton, Ontario. Recognizing the urgency of the situation, St. Matthew's House embarked on the 412 Barton affordable housing project, designed specifically to address the needs of these vulnerable populations.
To rally the Hamilton community in support, St. Matthew's House partnered with Kitestring to develop a compelling brand that would empower residents and build community.
Because St. Matthew's House recognized branding isn't just about creating an appealing visual identity—it is about storytelling and communication.
Dignity-Driven Branding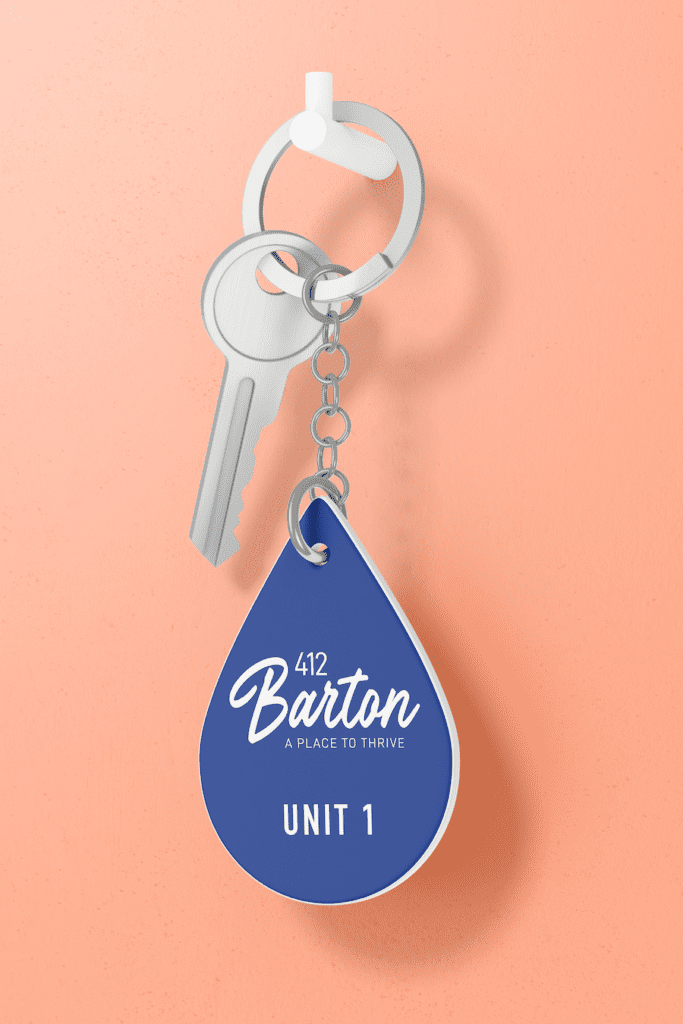 The brand design for 412 Barton embodies a dignity-driven approach that empowers Black and Indigenous seniors experiencing or facing homelessness. In consultation with Black and Indigenous community members and organizations, St. Matthew's House set out to create housing that not only served a need, but also felt like home.
Inspired by the aesthetics of hotels and vintage apartment buildings, the brand features an engaging color palette and geometric patterns to exude vibrancy and life into the project.
The tagline, "A place to thrive," encapsulates the vision of creating a community where individuals can find safety, support, and joy. The 412 Barton branding fosters a sense of pride and dignity among the residents, reminding them that they deserve support, and ultimately, a place to call home.
Creating a Sense of Belonging
By developing a strong brand identity, the 412 Barton project works to build a sense of belonging within the community and within the residence itself.
New, engaging collateral was designed to raise awareness and capture the attention of prospective donors and supporters, including signage, banners, apparel, and stationery.
A solid brand becomes a visual representation of the shared values and goals of the project.
412 Barton's brand fosters a collective sense of responsibility and redefines tenancy. When the residents receive a branded keychain upon moving into their new homes, it will symbolize not only their physical security, but also their membership in a caring community, supported by resources to encourage a safe, stable life.
Amplifying Support and Engagement
The branding project for 412 Barton amplifies support and engagement from the broader community. The compelling brand story, communicated through various channels, evokes empathy and encourages individuals, businesses, and organizations to get involved.
As the brand gains recognition, it will become a rallying point for community members to contribute their time, resources, and expertise in support of Black and Indigenous seniors.
This collective effort allows everyone to play a role in creating a safe and nurturing environment for those in need.
The 412 Barton branding project set out to help create a strong, inclusive, and supportive community for Black and Indigenous seniors in Hamilton. By emphasizing dignity, belonging, and engagement, the project strives to uplift and empower individuals who have faced housing insecurity. As the brand continues to evolve and make an impact, it serves as a reminder of the transformative power of community-driven initiatives. Together, we can create a future where everyone, regardless of their lived experience, has a place to thrive and call home.
To learn more about the 412 Barton project, visit St. Matthew's House.

Interested in how we build purpose-driven brands and want to chat about your next project? Let's chat!