Jamesville Bennetto
Developing a brand is an exciting, yet challenging endeavour; both for agencies and their clients. In 2019, Kitestring developed a new brand for Jamesville Bennetto Early Learning & Child Care Centre (formerly Jamesville Children's Centre) located on James St. N in Hamilton. Over the past two years, we've partnered together to bring their brand to life.
One of the most important things to consider when launching your brand is the various touchpoints your brand has with your audience. We wanted to bring the brand to life at the centre. Our goal was to welcome families and employees to the centre and communicate the sense of community that Jamesville Bennetto Early Learning & Child Care Centre has built on James St. N. By designing t-shirts, sweatshirts and rain jackets for all staff, we improved employee buy-in, increased brand visibility, and made it easier for staff and families to recognize one another (even in a pandemic). Quality is always top of mind, so we partnered with top-notch local screen printers Start Famous and Witly for these pieces of apparel.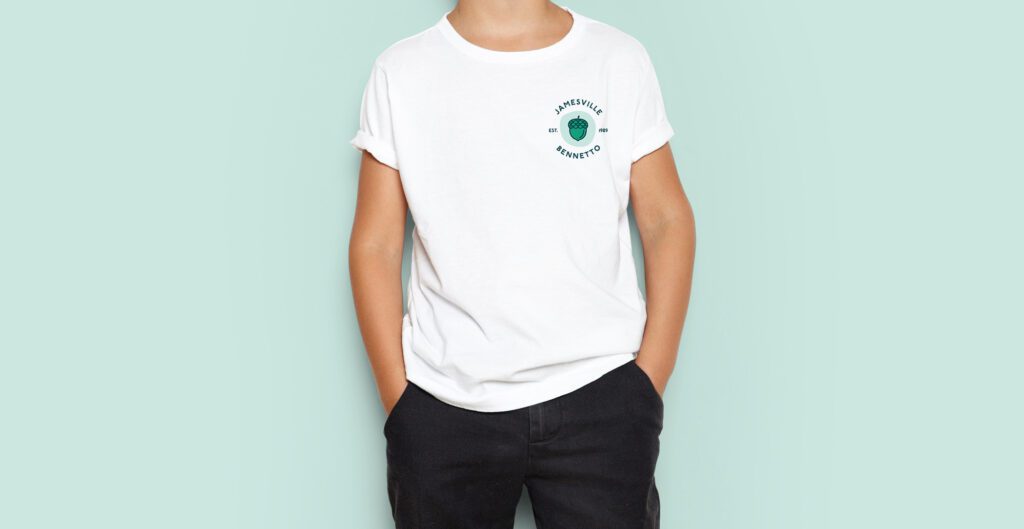 For Jamesville Bennetto Early Learning & Child Care Centre, wayfinding and their physical space were also of utmost importance. Ensuring that parents know where to find the child care centre was incredibly important as we developed signage for their current and future locations. By making sure both sides of the building have adequate signage (beside doors, on fences, in the parking lot and within the building), Jamesville quickly informs visitors that they are, in fact, in the right place. We've now also created signage that communicates their upcoming move to Jamesville Bennetto school with the goal of creating excitement and anticipation, and carrying brand recognition from James St. N to their new North End neighbourhood. By improving wayfinding and visibility, Jamesvilles ensures that visitors have a positive experience and builds a sense of trust within their organization, team, and community.

Ultimately, it was crucial to Jamesville Bennetto Early Learning & Child Care Centre that families and prospective staff knew who they were and their approach to child care. With a new and improved brand, the centre stands tall and is easily recognizable to families, friends and community members alike. With a focus on active learning and childhood growth, Jamesville Bennetto Early Learning & Child Care Centre is "where community grows".
Bringing your brand to life can feel overwhelming, but mutual trust and a strong partnership have allowed the Jamesville brand and organization to thrive. We look forward to watching them grow over the years to come, as step-by-step, we bring this brand to life.
If you're looking for a partner to bring your brand to life, let's work together!